Embarking on a new service inevitably stirs up mixed emotions. From excitement and hope through to worries of failure. So I was overjoyed with how well our first CORE community gathering went on October 17, 2023. 
Deepika, Brian and myself followed the structure of the Circle of Fire gatherings whereby active listening is encouraged and space given to each participant to share how they are feeling. There was also an element of First Peace Circles incorporated, which is aimed at activating a higher consciousness for peace through a collective coming together. I became a certified facilitator of First Peace Circles, a Seed Planter, in August of 2023 through the Ehama Institute and have found that it has really helped me to tap into my inner wisdom and intuition.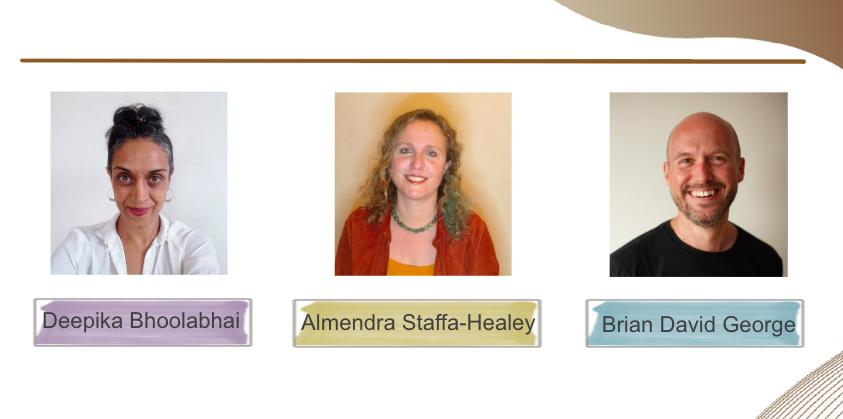 Deepika, Brian and I thoroughly enjoyed guiding the session and watching the participants open up
Everyone was then invited to submit a question for group contemplation, the questions were voted on and the following was chosen as that day's topic of discussion: "How to move forward positively when the overarching news is so desperate? How to help the world move forward. How to reduce the pain, the fear and the anger of people?"
There then followed a three-minute reflection period whereby everyone explored the day's question in their own way. We then took turns to respectfully comment on the issue and closed the session by each coming up with a line to create a poem based on the day's discussion.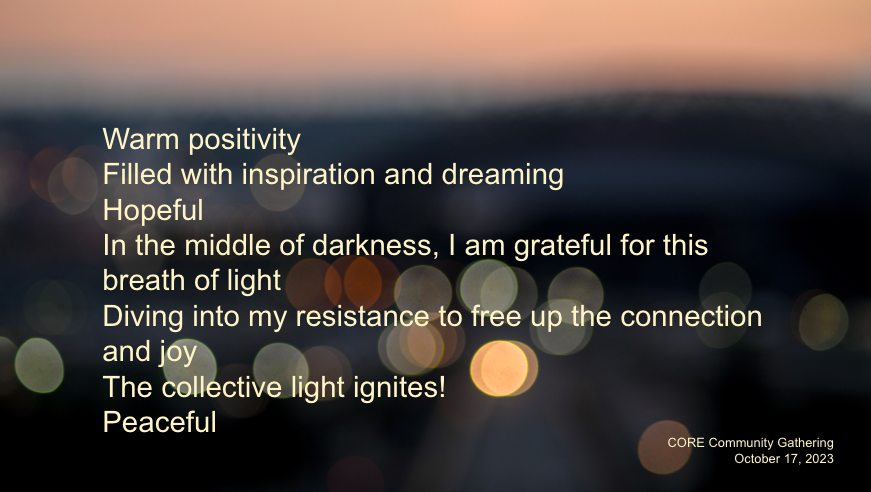 Each participant contributed a line of text to build this lovely poem that reflected on the day's theme.
The feedback that we received after the session was really positive, with people saying that everyone had been so warm and welcoming during the event and that they felt a lot more peaceful and connected with others afterwards. 
It was inspiring and beautiful to experience. I even cried a little bit. Thank you for creating this space ♥
Brenda Pimentel
Our next CORE Community gathering is on Tuesday November 14th from 6-8 pm CET and I welcome you to register for it here:
https://www.eventbrite.com/e/core-community-gatherings-november-2023-tickets-738922275417?aff=oddtdtcreator  
Because it's only by coming together in sessions like this that we have any chance of healing this world.