Who do you think you are? Is your identity tied up with your nationality? Your sexuality? Do you find yourself shifting in terms of your sense of belonging over time? The concept of belonging and identity is something I've always been fascinated in. I think it has so many ramifications as to how we interact with others and how we feel about ourselves. So I was excited to give a webinar at the start of September to SIETAR Spain members on this subject. Entitled 'Interculturality and Belonging' I wanted to show how our own identities and sense of belonging impacts on relationships – both personal and professional.

I started out explaining how I, as a Third Culture Kid, have always struggled with my sense of belonging. Am I Spanish? Or American? Or a curious mix of both? Having lived and moved between both countries and cultures from a young age, it's something I've always grappled with.
And this need to feel like we belong to a tribe is inherently part of the human psyche. Because when we feel we are respected and understood, then we're more likely to open ourselves up to others. We're more likely to participate and pass on knowledge to those around us. In daily life, a work or an academic environment, if we feel recognized by the system we're in, we can choose to share our inherent value with those around us. When we don't feel like we belong or aren't smart or funny enough, we feel fragile, at risk, and withdraw.
"We can't show what we can do until we can show up as who we are." Indeed Career Portal
Useful resources to help define our sense of belonging
During the session, I drew on various resources such as the Dimension of Identity Wheel created by Gardenswartz and Rowe (https://www.gardenswartzrowe.com/why-g-r) and the Johari window model (https://conceptboard.com/blog/johari-window-model/). These are powerful tools that help us work out our identity, what's important to us and how other people may see themselves.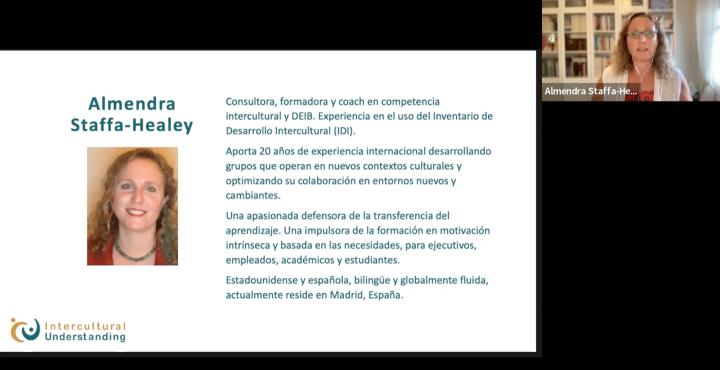 I explained the importance of having sensitivity to others. And to garner this empathy, we first need to understand ourselves. The Johari Window method is about sharing parts of yourself with others that you normally keep private, in order to build trust. It can also be used to get feedback from others on aspects you don't readily see in yourself.
While it's important to consider that private and personal information sharing should to be done in a safe space and only if you feel comfortable. Sharing lighter, less identity critical personal information can be a great way of building connection within teams, and thus initiate an environment of greater belonging. 
I then asked the participants to think of something personal about themselves and to then share it with others in the small breakout rooms. The feedback after the group discussions showed what a great exercise this is. "I felt vulnerable but, at the same time, protected by every one," shared one participant. While another admitted "I couldn't decide which skeleton to get out of my closet! It made me realize just how complex we all are – there are so many parts of us that we choose not to share with others. But even just sharing something small makes a difference and creates an enriching experience." The Johari Window can be used to create an environment where you feel that you can share, and at the same time it can create the environment that supports it.
To highlight everything that we had discussed and to show what empathy means in practice, just before finishing off I showed the participants this powerful video by Career portal Indeed. It illustrates how a job interview can go so much more smoothly for all involved if simple questions such as which pronouns people prefer are used. As Indeed point out themselves "we can't show what we can do until we can show up as who we are." To view the webinar, click here.
To find out more about Intercultural Understanding, please feel free to reach out!